Fosta capitala a regatului, LP e un orasel cochet, la afluenta a 2 rauri – Maekong si Nam Ou. Stil colonial frantuzesc, specific local cu palmieri si bambus din care rasar cateva temple budiste. Capitala s-a mutat, reprezentantii administratiei au fost inlocuiti de turisti si artisti. Probabil un fel de New Orleans asiatic.
De 10 ani a fost inclus in UNESCO World Heritage List (unde e si Sibiu & Sighisoara) pentru: outstanding example of the fusion of traditional architecture and Lao urban structures with those built by the European colonial authorities


Night Food Market Dupa 6, cateva stradute sunt populate de tarabe. Asia e generoasa in ingrediente naturale, context in care oferta gospodinelor e si ea luxurianta. Scolile culinare chinezeasca, indiana, thailandeza, laotiana isi impart tarabele. Fructe proaspete, sosuri, panere, dulciuri, fripturi, mirodenii, supe, clatite, peste, broaste, alge, fruit shake-uri. Fill your plate with 5000 kip (0.5$)
Franta a fost nevoita la un moment dat sa-si retraga pretentiile coloniale insa incearca sa-si pastreze o influenta culturala prin cateva evenimente si expozitii de arta. Zilele astea e Bienala internationala de imagine din Luang Prabang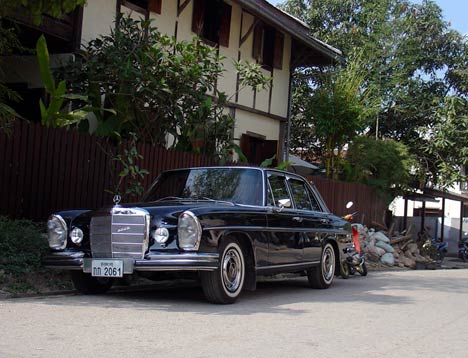 Singura parte proasta e ca acum 3 saptamani a fost interzisa inchirerea de biciclete catre farangs (straini), probabil un complot al taximetristilor (conducatori de tuktuk si songthew). Poate a 2-a ar fi ca toate pravaliile, inclusiv barurile se inchid la 11:30, probabil ca sa ne-aducem aminte ca ne aflam intr-o tara comunista. Exista totusi un local, o sala de bowling in afara orasului care ramana deschisa pana mai tarziu, zice-se fiind controlata de cativa de politisti de-ai locului.
Nu e totusi prea mare buba, gainile de prin curtile localnicilor se ambitioneaza sa te trezeasca in fiecare dimineata pe la 6 asa ca pe la 11-12 chiar incepe sa ti se faca somn. Chiar si mie.